I started keeping bees again in 2011 and really got hooked. I had had a hive of bees when I was a teenager in the 70's but I never kept up with it and gave my hive away after a couple of years. When I say I had bees that is about all I can say because I was afraid of them, I never saw the queen and I only went into the hive occasionally.  I had kind of forgotten about bees until the summer of 2010 and I started noticing honey bees around the house. In the 30 years we had been here I hadn't ever seen more than one or two bees around at any one time. I was working in the garden and the sumac was buzzing with honey bees.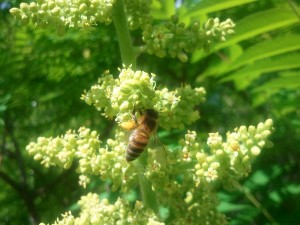 I was telling a friend who is a beekeeper about the bees around the house and he set me up with a bee box for lining them. When I first set up the lining box with some comb and sugar water in it not much happened, the bees just ignored it. I told my friend about this and he said to wait a couple of weeks and try again. Well the second time it worked better as there was a dearth going on and the bees were interested in anything sweet.
I fed the bees for about a week and tried to see where they were heading from the box but I couldn't really tell which way they were going. Not getting anywhere, I decided to paint one to see if that would help.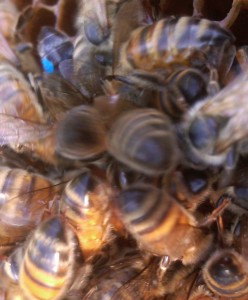 It was hard to mark the one bee but we got the hang of it by sneaking up on her when her head was buried in the comb.
As soon as the bee was marked it became much easier to watch the one bee. We could see that she was making regular trips and we also determined the general direction of flight. It got really interesting when we stated to time her.
Her first flight was 4 minutes and 42 seconds +/-, the second was 4 minutes and 46 seconds, the third was 4 minutes and 52 seconds. This continued for a couple more trips and they were all within 10 seconds of each other.
I was really excited because they were so close. I had visions of finding wild bees in a tree and claiming them for my own. I decided to check with my neighbor to see if he kept bees or knew of any hives. This would save me some hunting in the woods I figured.
Well my neighbor didn't own any bees but he had three or four hives on his property that belonged to a member of the Kearsarge Beekeepers Association. My neighbor is a small farmer and he requested the hives from the club to help with pollination.  How come I had never heard of this association? When did they meet? Can I join? How much does it cost?
I started digging and researching bees online and was overwhelmed by the amount of information on honey bees that there was available and how popular a hobby it was. Most of the information I was reading suggested that new beekeepers join a club, attend a beekeeping school and find a mentor, someone to grill for information.
I already had the mentor in my friend Bam and there was a bee class starting up in the spring.  Over the winter I made two hives and started planning my new hobby.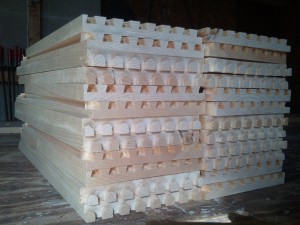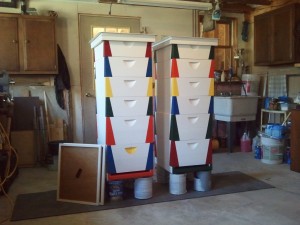 As you can see I had plenty of equipment for the first year. The painting design came about because I wanted more protection on the corners of the boxes and I didn't feel like painting the entire box again. So I guess that laziness played a part in the choice. I had also read that different colors or designs on the hives would help the bees find the right hive when they were returning from foraging. Anyway the colors are fun!
2011 was my first year with bees and I purchased two nucs from West Meadow Apiary in Braintree, VT.