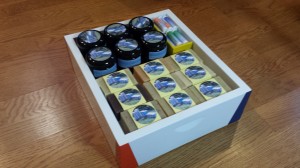 We have homemade beeswax soap and cream for sale that we have been making and giving away as gifts. People really seemed to like the soap so we started to sell some at local markets. We started making our own soap after listening to another soap maker claim that once you start using homemade soap you won't want to use "store bought" soap again. She was right! I thought she was joking when she said she took her own soap with her while traveling. Not any more because we do the same thing. She also told us how the homemade soap and cream would help with eczema and psoriasis. She was right because my wife's psoriasis has all but disappeared once she began using our own soap and creams
We currently have 8 different scents that we make. All of the scents are from essential oils except for the French Vanilla which is a fragrance oil. For the oil base in our soap we use olive, palm and coconut oils. Beeswax and oatmeal is also added to the mix for a firm bar and a refreshing experience. We recently started to make all of the scents without oatmeal at the request of some of our customers.
Our soap scents include;
Plain, Fir, Lemongrass. Sweet Birch, Sweet Orange, Orange Spice, French Vanilla and Patchouli. We make the soap in small batches and cut and wrap it by hand., The soap is in a 4 oz bar +/-
All soaps sell for $5 a bar and if you buy 5 the 6th bar is free.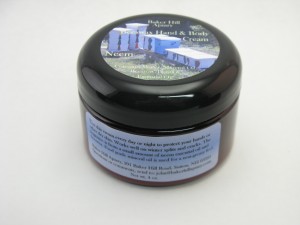 Our hand and body cream is made from beeswax, mineral oil and essential oils for a light fragrance. There are not many ingredients to it but it feels good and works well. I work out in the New Hampshire cold a lot and I normally get those painful splits on my fingers and last year was the first time in many years that I didn't get any splits. I used the cream almost every night at bedtime and it kept my hands split free. You realize that I am quite biased about our product but most people that have tried it agree that it makes their skin feel better.
Our four cream scents are Mandarin, Tea Tree, Neem and Plain. All are packaged in  4 oz. jars.
The  cream is $8 a jar and if you buy 5 the 6th is free.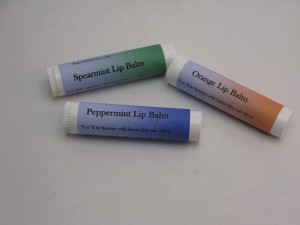 We have lip balm that is good to use any time of the year. With almond oil, beeswax, shea and cocoa butters and vitamin E this balm offers protection and a soothing relief for dry lips. Spearmint, peppermint and orange flavors are available for $2 each.
Shipping charges are extra, about $12 for a medium priority mail box that will hold several bars of soap and a few jars of cream.
Currently the best way to purchase is to email me  and then  pick it up if you are close to Sutton, NH. We can take credit cards, checks or cash.
My email is john@bakerhillapiary.com
Thank you,
John and Betsy at
Baker Hill Apiary
You can also find our products at;
-Our friends at The Follansbee Inn are using our handmade soap in their guest baths.
-Musterfield Farm's Produce Stand (in season). We were lucky to have our bees at the farm in 2013 and are hopeful for expanding our bees in 2014.
 Mountain View Fudge  at Mt. Sunapee traffic circle. Stop in to see what great local products and delicious fudge they have, you won't be disappointed!